AFL, NRL tributes, Sports events in Britain called off, Premier League call expected
Loading
There are, however, complications, for the AFL may have to shift its Brownlow Medal count on Monday week, for the Queen's funeral may be held that day.
Racing NSW boss and Australian Rugby League commission chair Peter V'landys paid tribute to the Queen, recalling her "mischievous" smile and wicked sense of humor at a dinner earlier this year.
V'landys, in his capacity as chief executive of Racing NSW, was seated next to the Queen for a dinner at Royal Ascot in June earlier this year.
The Queen was a racing enthusiast – her own horse Estimate won the 2013 Ascot Gold Cup – and V'landys gifted her a replica of the Everest trophy as thanks for the invitation.
"She asked why I didn't give her the original one and my response was: the original has about 6000 diamonds on it, that's more than you've got'," V'landys said on Friday.
"The room stopped when she walked in, it was like we were looking at an angel.
"She was mischievous, her mental sharpness, wit and sense of humor was extraordinary.
"And she sent shivers up my spine when she told me how she fell in love with horses when her father, King George VI, who owned two horses, took her to the races when she was 16.
"She saw this magnificent horse and was captivated by it and when she touched its neck it felt like velvet, and she said she didn't wash her hands for three days."
The VRC extended its condolences to the Royal Family, noting that the Queen, an aficionado of horse racing, had visited Flemington in 1954, 1963 and 1977, while her horse Arabian Story finished sixth in the 1997 Melbourne Cup.
As part of the 1954 Australian Royal Tour, the VRC held a special Royal Race Meeting in February to mark Her Majesty's visit, featuring the Queen Elizabeth Stakes and the Duke of Edinburgh Australian Cup.
"Her knowledge and passion of horse racing was well-known and inspiring," said VRC chairman Neil Wilson.
"The Queen has left an extraordinary legacy and her contribution and support for our industry has always been greatly appreciated. She will remain in our hearts forever."
Loading
The Queen met hundreds of Australian sportspeople during her reign and was notably the subject of some mischievous Test cricketers.
Australian fast bowling legend Dennis Lillee, when meeting the Queen during the 1977 Centenary Test in Melbourne, greeted the monarch with a "g'day Queen" – and then asked for her autograph. The Queen declined Lillee's request because of royal protocols but later sent the Australian a signed photograph of their meeting.
During a 1981 Test match at Lord's, Australia's paceman Rodney Hogg met the monarch during a break in play.
One version of events has Hogg saying "nice legs for an old sheila" when the Queen was in ear-shot. Another version has Hogg turning to teammate Geoff Lawson, digging him in the ribs, and pointing out the Queen's "pegs".
Hogg has confirmed, in general, the latter story. "Oh no, I definitely didn't tell her myself, I would have been too scared for that," Hogg was reported as saying in 2011, some 30 years after the greeting.
"But I did give 'Henry' [Lawson] a nudge and say that I thought she had a good set of pins. You've got to remember, she was a very attractive lady."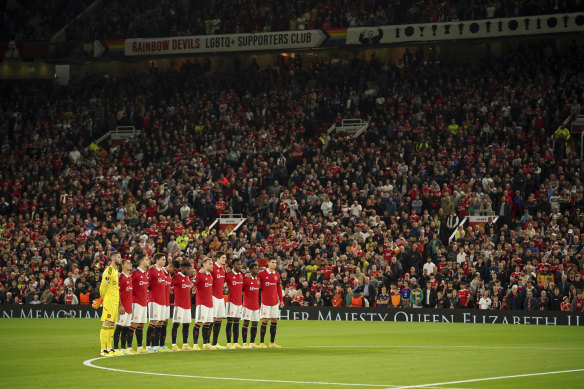 Several sporting events in Britain were called off as a mark of respect following the Queen's death on Thursday (Friday AEST).
Organizers of the BMW PGA Championship golf event immediately suspended play, with many players still out on the course at Wentworth. The course and practice facilities will be closed Friday.
Loading
The England and Wales Cricket Board said Friday's play in the second Test between England and South Africa at the Oval would not take place.
Horse racing meetings in Britain were suspended on Thursday night and Friday, with the governing body wanting to "remember her extraordinary life and contribution to our sport and our nation."
Domestic rugby matches in England and Scotland were called off and games will not be played over the weekend, either.
Friday's stage in cycling's Tour of Britain was cancelled, with a decision on the final two stages over the weekend to be taken in due course.
The Premier League paid its respects to the royal family, saying it was "deeply saddened" to hear of the queen's death. It didn't immediately say whether games would go ahead this weekend.
The English Football League called off its games that had been scheduled to be played Friday evening and said a decision would be made on Friday morning about weekend games.
Manchester United's Europa League game against Real Sociedad did take place hours after the queen's death was announced. There was a minute's silence before kick-off at Old Trafford, with both teams wearing black armbands and the flags at stadium lowered to half-staff as a sign of respect. There was a minute's silence in other European games involving British teams, such as Arsenal, West Ham and Hearts.
Tributes also poured in. Brazil soccer great Pele tweeted about his admiration for the queen ever since meeting her in person in 1968 when she visited the Maracana in Rio de Janeiro.
"Her deeds have marked generations," Pele wrote. "This legacy will last forever."
The All England Club, home of the Wimbledon tennis tournament, said the queen undertook her duties "with great wisdom, dignity and charm for 70 years."
The Queen was the royal patron of the Welsh Rugby Union, which thanked her for "years of service on this profoundly sad day."
With AAP, AP